You can use Contacts to keep records of people that are important to your business.
When a person registers on your website or places an order, a contact record will be automatically created and listed in the Contacts > Contacts area of your account. A Contact doesn't have to be a customer. You can create contacts to record potential business leads that are important for you to keep track of.
A contact can also be granted exclusive access to galleries available in your library. Instructions for this can be found in this link.


To create a Contact you can follow the instructions below:
1. Go to the Contacts > Contacts area using the left-hand page menu.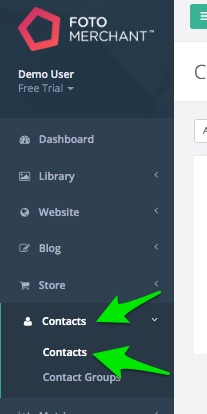 2. Click on the green +Contact button on the top right.
3. Fill in the contact information and use the Save button on the bottom of the page.