The Blog consists of a Summary Page and individual Blog Posts. The Summary page is the main area that shows an excerpt of your blog posts and allows website visitors to easily access individual posts that are linked on the Summary Page.
When you create a new Blog Post you can set a hero image and an Excerpt that shows on the Summary page. Step by Step instructions can be found below.

1. Navigate to the Blog > Posts area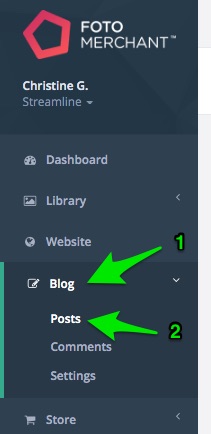 2. Use the + Blog Post button on the top right of the screen

3. Enter a Title for your blog post.
4. If you wish you can add an excerpt / a summary, which will be displayed on the Summary Page. Alternatively, Fotomerchant will automatically extract an excerpt for the blog post based on the content at the beginning of the blog post.
5. You can set a Permalink.
A permalink or permanent link is the unique web address to this page. If your web address is www.mydomain.com and you type this-is-an-example into the permalink field, then the permalink for this page would be www.mydomain.com/blog/this-is-an-example

6. You can select a hero image, that will be displayed on the Summary Page, together with the Excerpt.

7. You can specify a publish date, which will queue your post for publishing and make sure your post will only be available from the specified date.

8. The next step is to add content to your blog post. The blog post editor is the same than the webpage editor and the video tutorial in this link will walk you through all the tips and tricks of inserting content to your post.
9. To save the changes you have made to a Blog Post, you have two options. You can either use the Save as Draft or the Publish button on the top right of the page.