Fotomerchant lets you create different kind of pages to display your galleries. The options are Gallery, Portfolio or Gallery Category pages. Each of these page types offer different structures, which are explained in some detail in this tutorial.
Gallery Category pages will display galleries that are grouped in a specific gallery category on one page.
The first step to create a Gallery Category Page, is to create your Gallery Category and to assign galleries to it. The tutorial in this link covers the process of creating a gallery category.
Creating Gallery Category Pages
1. Make sure you have your Gallery Category configured. Check out the tutorial on creating gallery categories here.
2. Navigate to the Website > Pages area.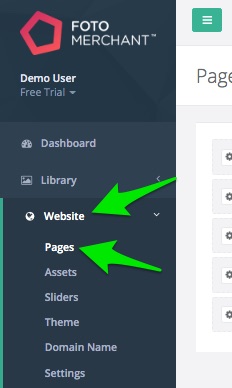 3. Use the + Page button and select + Gallery Category Page.

4. Enter a Page name.

5. Select your Gallery Category from the drop box.
6. It is optional to add a Permalink.
A permalink or permanent link is the unique web address to this page. If your web address is www.mydomain.com and you type client-area into the permalink field, then the permalink for this page would be www.mydomain.com/client-area.

7. The next field is optional too. You can choose a parent page to enable nesting of this page under the parent page in your website navigation menu.

8. You can choose to expand the page in your website navigation menu to show sub-sections.

9. Use the Save button on the bottom of the page to finalise the changes.

After saving the changes, you can scroll further down the page and review the design options that appear.