Galleries uploaded to your account can be grouped in different Gallery Categories. These categories can be useful when it comes to structuring the way galleries display on your live website. The tutorial in this link will go deeper into the structure of portfolio or gallery category pages.
A gallery category can either be public or password protected. There is more information on the Security Behaviour of a gallery category in this link.
Below you can find instructions on how to create a Gallery Category and how to add Galleries to the category.
Creating a Gallery Category
Assigning galleries to a gallery Category


Creating a Gallery Category
1. Navigate to the Library > Gallery Categories area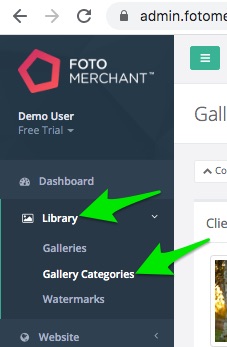 2. To add a new category use the + Gallery Category button on the top right.

3. Enter a Category Title

4. You can add a description to the Category, but this is optional.

5. Set the Security Behaviour of your gallery category.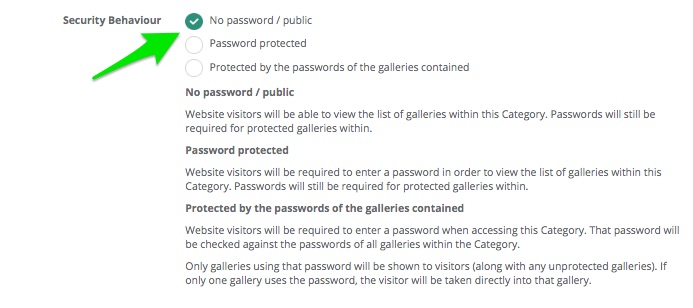 6. Use the Save button on the bottom right of the page.

Assigning galleries to a gallery Category
The newly created gallery category will be empty. In the next step we will need to assign galleries from the Uncategorised Area on the right side to the newly category on the left.
To do so place your mouse on top of the gallery you would like to add. A black and white cursor cross will appear on top of the gallery. Grab the gallery at the cross and drag it over to the gallery category then drop it there accordingly.

When the category has been dropped to the Category it will appear in the category and disappear from the uncategorised galleries area.