The home page is the default webpage that loads when someone visits your web address. This page therefore serves as the starting point for your website.
You can set any type of page (Web Page, Gallery Page, Portfolio Page or Gallery Category Page) as your home page. Blogs, Folders or External links cannot be set as the home page.
To set a home page you can follow the steps below:
1. Navigate to the Website > Pages area of your Fotomerchant account.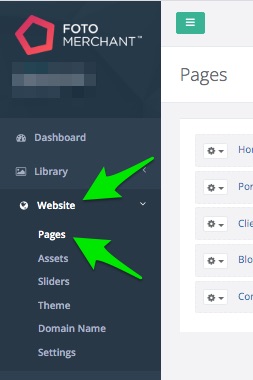 2. Click on the Actions button (cog icon) next to the page and select Set as Home page from the menu options available.

The green house icon identifies the page as the home page.