You can add Folders to your website's navigation and use them to group various types of pages into one area of your navigation. Folders are a navigation only concept and if clicked on won't open any pages. When a website visitor places the mouse on top of a Folder, the navigation items nested below the folder will appear.
This tutorial focusses on how to create a folder, if you are interested in finding out more about how to nest a page beneath a folder, you can follow the instructions in this link.
Here is the process of how to add a Folder:
1. Navigate to the Website > Pages area of your Fotomerchant account.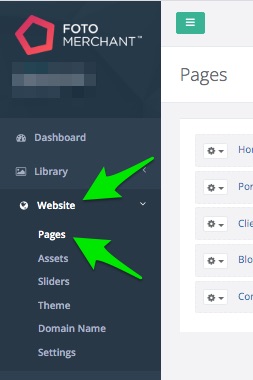 2. Click on the green +Page button on the top right of the screen

3. Click on +Folder

4. Enter a Folder Name

5. You have the option to nest the below an existing page by choosing a page in the Parent page (optional) drop down box.

6. Use the green Save button on the bottom to finalise the changes.