You can close your account at any time from the My Account section of your admin interface.
This will schedule your account for cancellation before the next renewal, but will allow you to continue using the account as per normal in the interim. To check when your next renewal is, visit the My Plan page in your account to view the renewal date at the top of the page.
Fotomerchant does not provide refunds beyond the 30 day money back guarantee for your first subscription payment if you are not satisfied with the service. Please refer to our terms and conditions for further information.
If you are a seasonal photographer and simply wish to take a break from your subscription payments in the off season, Account Hibernation is also an option to prevent your account being deleted permanently after cancelation.
1. Click on your account name at the top of page and select My Account.

2. Scroll to the bottom of the page and hit the Cancel Account button.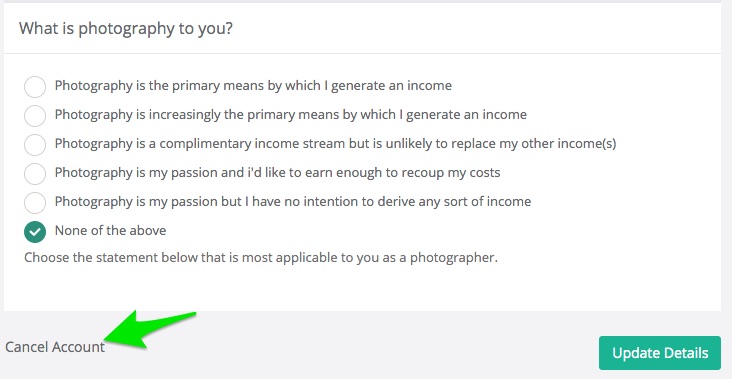 3. Follow the prompts to finalise the account cancelation process.
If you are still using the older Fotomerchant "Version 2" platform, your admin interface will look slightly different. The My Account section can be accessed on the top right hand side of the screen.
The Cancel Account button is also located on the bottom of the page.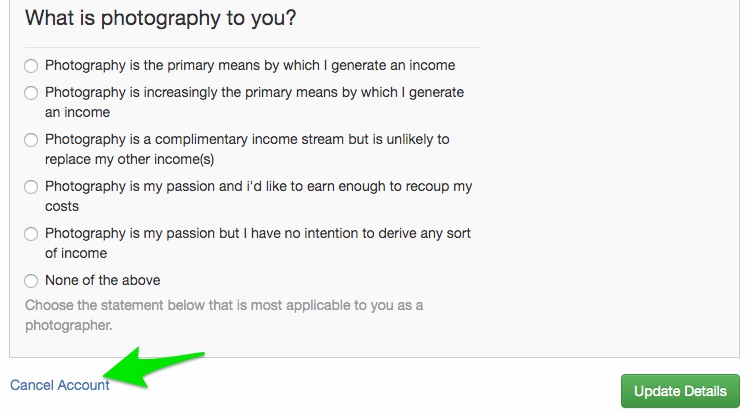 In case you don't see the Cancel Account button, you can send us a message to help@fotomerchant.com and we will be happy to look into this for you.