We integrate with the web's most powerful discussion system to bring commenting to your blog posts..
So first up, if you don't currently have a Disqus account then you can quickly create one here. Note that if you wish you can sign up to Disqus using your existing Facebook, Twitter or Gmail authentication details - Simple!

If you do already have a Disqus account, then sign in here!
---
Once you have your account up and running..

1) Hit the Settings icon.
2) then select Add Disqus To Site
---
Now under the Site Profile section..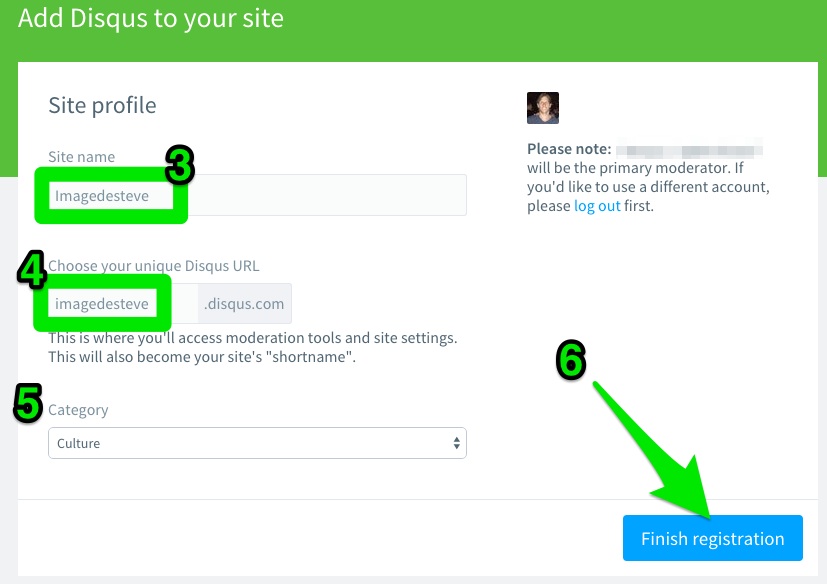 3) Enter a Site Name. (Your site title, domain name or business name should work here. Just keep it simple as this is for your internal reference only)
4) Now choose your unique Disqus URL. Your Site Name should actually prefill this field for you if you've kept it simple.
Now keep a reference of this full Disqus URL as we'll use it again later: yoursitename.disqus.com
5) Select a Category
6) Hit Finish Registration
---
Great! So this now brings you to a section titled Install.

7) The good news is that we've done the hard work around installation for you so you can ignore this page and instead go explore the other Settings for your new Disqus site profile. (Then move on to step 8 to set things up in your Fotomerchant account!)
---
So, back in your Fotomerchant account now...

8) Hit the Integrations menu option
9) Hit Social Networks.
---
10) Scroll to the bottom of the page now and hit the Disqus Connect button

---
This will take you to a Disqus authentication page letting you know that your Fotomerchant account wants to talk to your Disqus account.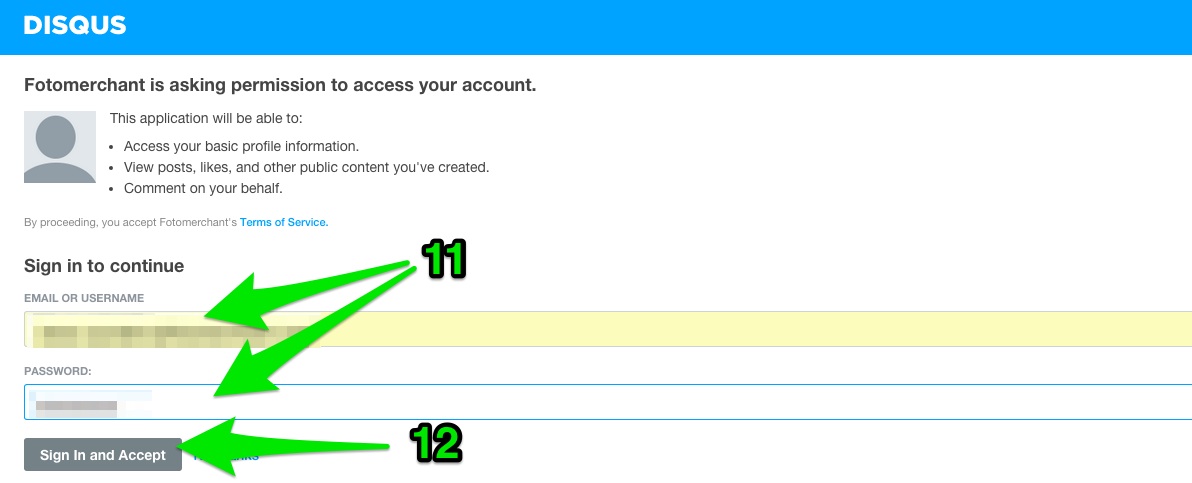 11) Enter your new Disqus account authentication details. (Note that if you used Facebook to create your Disqus account.. then you'll need to enter your Facebook account authentication details here. Same goes for Twitter and Gmail).
12) Hit Sign in and Accept.
---
Back in your Fotomerchant account, you should now have the option to select the Disqus Site that we created earlier.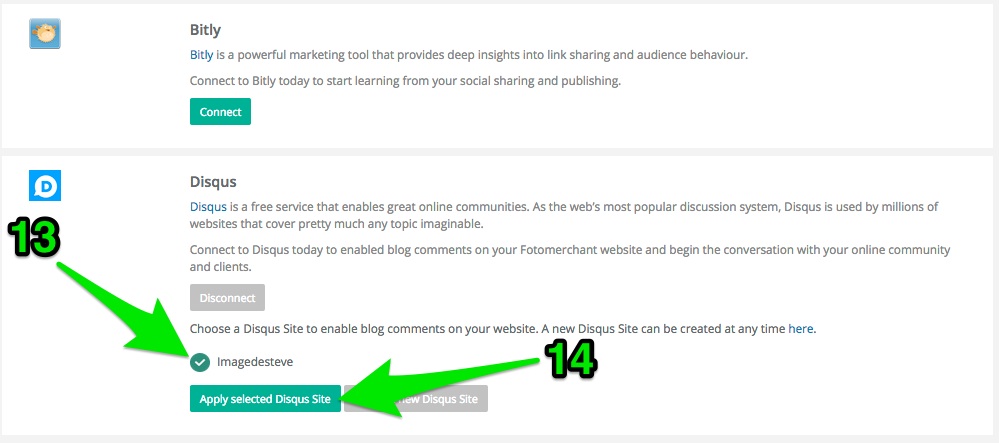 13) Select the new Disqus Site
Note that if there are currently no Disqus Sites available here, then check the post script step at the bottom of this page to check you Disqus Privacy settings.
14) Click Apply selected Disqus Site
---
..and that's it!
Each of your individual blog posts will now include a Comments / Discussion section below the post content.

..and in your admin menu you'll now have access to a Blog / Comments link which will take you to your Disqus account Comments Moderation page.

---
..Done!
---
POST SCRIPT - If you were unable to select a Disqus Site at step 13 above..
..then it could be that an unnecessary privacy setting in your Disqus account is causing you trouble. The Disqus API hides all site/forum information from third parties when this Privacy option is Enabled on your Settings / Profile page.

So, head to the Settings / Edit Profile page in your Disqus account and check that the Privacy field is set to the default Disabled state.
You should then be able to head back to your Fotomerchant Integrations / Social Networks page to select your Disqus site and hit Save to complete the integration.
...totally Done!