It is possible to add links to external websites or different pages on your website to selected text, images or sliders on a web page. This tutorial focuses on adding links to selected texts on your web pages. If you would like to link an image or a slider on a web page you can refer to the tutorial in this link.
1. Navigate to the Website > Pages area of your Fotomerchant account.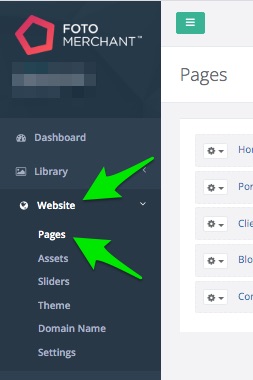 2. Click on the web page (e.g. Home) you would like to edit.

3. Scroll down to the content area of your web page and highlight the text you would like to link with your mouse.

4. Click on the link icon that appears after highlighting the text
5. Enter your link URL in the pop-up window and click OK.

NOTE: It is important to note that there are two types of links: Absolute and Relative Links. The tutorial in this link will walk you through the difference in more detail, but you can also read on below for a brief example.
If you are linking to a page external to your own website, you can use the absolute link e.g. https://externaldomain.com/contact
However, if you are linking to a page within your own website, we recommend to use the relative link (excluding the web address) e.g. /contact

6. An additional popup will appear, use the Cancel button. We don't want to prefix our URL with "http://:".

7. Use the green Save button on the bottom of your web page.