So you can apply a watermark to any of your galleries from the Edit Gallery page.. 
Checkout Lesson 2 in our Kick Start Guide for a video tutorial on this.. Otherwise just follow this process from your admin account.. 
Note: Watermarks that you apply to your Galleries only have an effect on the preview images used through-out your live site.
The original image file that is sent to the lab for Direct Fulfillment processing will not contain a watermark, so there's no danger of your customers' prints arriving with watermarks on them!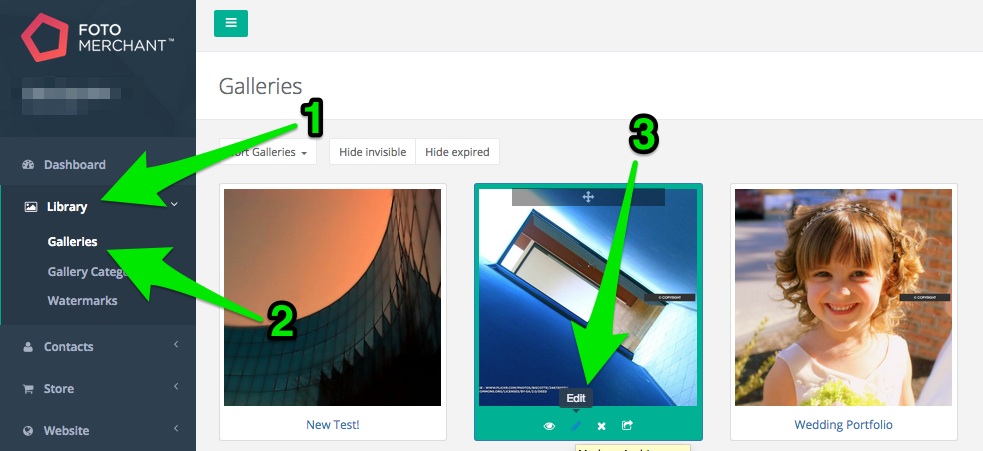 1) Hit Library
2) Hit Galleries
3) Roll your mouse over the chosen gallery and click on the Edit icon that looks like a pencil.

4) Now form the Edit Gallery page, click on the panel labelled Privacy and Security to reveal more options.
5) Select a watermark from the Apply Watermark (optional) drop box.
6) Finally, don't forget to hit the green Save button at the bottom right of the page!
The Gallery will now have that watermark applied. Repeat this process for every gallery you want this watermark applied to.

___
You can also upload your own custom watermarks files from the Library / Watermarks page by hitting the New Image button to the top right of screen.
Your new watermark would then become available in the Apply Watermark drop box that we saw in step 5 above!

Checkout Lesson 7 in our Kick Start Guide for more detail on creating new watermarks.

C'est tout!