Images on your Site
Ok, so to get your images looking great on your website, you will want to upload at least a medium resolution source image. This will be used to create all the other preview and thumbnails images used throughout your site so we recommend that you upload images at a minimum of 2048 pixels wide @ 72dpi with the JPEG quality scale set between 60-90%. The greater the compression, the lower the quality (obviously) so this will affect the look of the images displayed on your website.

Every image is different, so you might want to do some tests to see which quality settings give you the right balance of upload speed and quality.



Self Fulfillment - (Fast Upload times with lower res source files)
Now if you're only using the Self Fulfillment print delivery method then the method above should work perfectly for you. You can then simply send the full res image files to your chosen print lab to process the print orders. Your images will still look great on the site and you'll enjoy quick upload times as the image files aren't huge. Note that if you also plan to mix in some Digital Download products you might want to keep reading! 


Direct Fulfillment (Manual Approval - Use the Change or Upscale function before approving orders)
If you're using Direct Fulfillment and you plan to manually approve each of your customer orders, then you will have the option to Change or Upscale the source image before approving the order to be sent to the print lab. So in this case you could also upload medium res source files initially (for fast uploading) and then Change in a high resolution file or Upscale the existing file when the customer order comes through. 

To make sure Direct Fulfillment orders are held for your approval simply go to the Store / Settings page of your account, flick over to the Direct Fulfillment tab and make sure that the Check Orders radio button is set to On.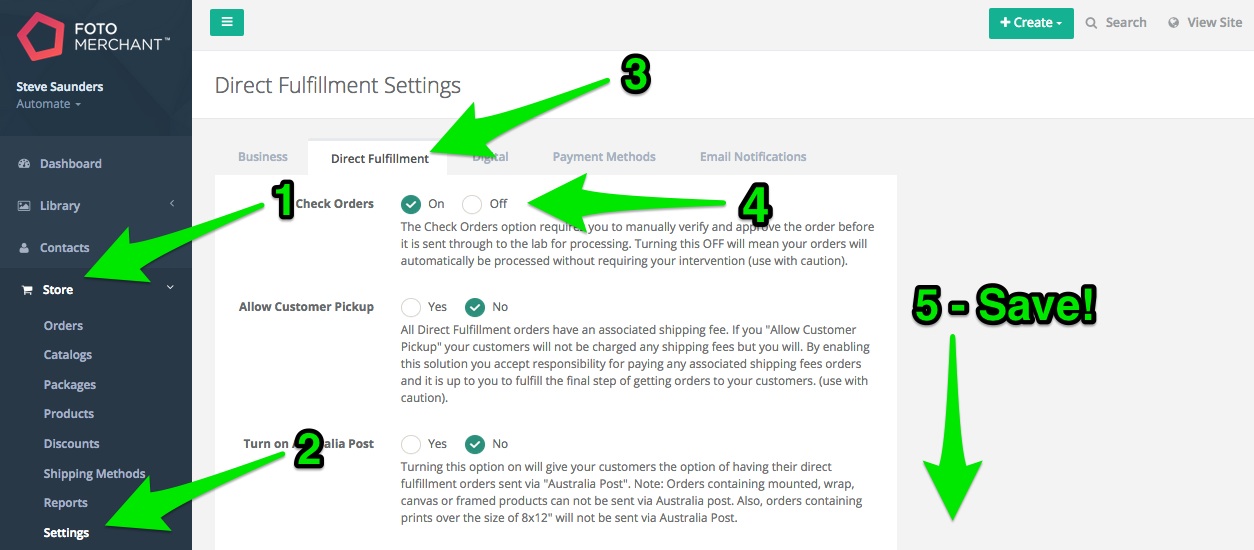 Direct Fulfillment (Fully Automatic..  no approval before sending direct to the lab)
If you prefer to run your account using a more hands off approach without an Approval step then you will need to ensure that you upload Full Resolution images to your galleries to accommodate the dimensions of the print products that you offer your customers through your Catalogs. You may also need to ensure that the aspect ratio of your digital images matches that of the print products offered in your Feature Sets. This will help avoid the need for cropping of images at the time an order is placed which should further streamline the process for you. Here's a good article on Aspect Ratio that illustrates the problem facing every photographer.

Once you've allowed for the resolution and aspect ratio points, you can then change the Check Orders radio button to Off so that your customer orders are sent directly through to the lab for processing.


Digital Downloads
If your uploaded source image is large enough in resolution to accommodate the Digital Download product that a customer has ordered, then that source image will be used to generate the customer's Digital Download product. Eg: a 5MPx source image can be used for a 5MPx (or lower) Digital Download product. 
  If this were a purely Digital Download order  then there's nothing for you to do here and the files will be made available for download as soon as possible.
However, if your source image is lower in resolution than the Digital Download product then you will again have the option of either Change or Upscale the source image to better accommodate the Digital Download product that the customer has chosen before approving the order. 
..and that's it - Hope that helps!