When creating a Volume Discount you set a Minimum Spend value for your website. If any of your customers exceed that threshold, they will be automatically rewarded with either a percentage based of flat discount that you specify when setting up the Volume discount. Volume discounts apply to the cost of an order after Coupon Discounts are applied and do not include the cost of Packages.
Volume discounts apply across the entire website and it is not possible to restrict them to galleries or clients. If you want to give a discount to an individual person, you can set up a Coupon Discount and provide them with a coupon code that can be used upon checkout. The tutorial in this link will cover the setup of coupon discounts.
NOTE: In order to create a Volume Discount, you will need to be subscribed to a suitable plan that includes the "Volume Discounts" feature. Please refer to our subscription plan page for more information.
1. Navigate to the Store > Discounts area of your Fotomerchant account.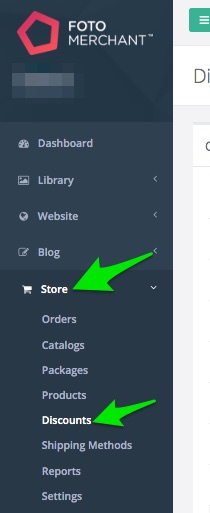 2. Use the + Volume Discount button at the top right of the screen.

3. Fill in the name field for the discount. The name will not be seen by visitors to your website, but it will help you identify the Volume discount.

4. The description field is optional and can be left blank.

5. In the next step you will set the discount amount and whether you would like it value based or percentage based.
In the drop box you will find two options, + and %. If you select +, the discount will be value based (e.g. 20+ for $20 off). To get a percentage based discount (e.g. 20% off) you would select the %.
The discount field that currently shows 0 in the screenshot below is where you set the discount amount.

6. The Minimum spend amount is what the customer needs to spend in a single purchase for the Volume discount to be applied. The field should be set to a value of at least 1.

7. The status drop down box allows you to activate or deactivate the discount. If the box is set to Active, Volume Discounts will automatically be applied to shopping carts that meet the minimum spend criteria.

8. Once all the required fields have been set, you can finalise the setup by using the green Create button.