If you're an Australian based photographer and you'd like to offer your customers a more affordable option for delivering smaller print orders, then read on!
Shipping Details
The Australia Post Domestic Shipping option gives your customers a more affordable way to take delivery of their prints. 
At just $8.00AUD to anywhere within Australia it represents great value for money (especially for smaller print orders) but we ask you to take the time to familiarise yourself with the details of this delivery method before activating it.
The Specifications
Only available for prints that are sized 8×12″ and under.

Maximum weight is 300 Grams (Approx 100g in prints + 200g internal packaging)

Maximum quantity of ten 8×12″ or twenty 5×7″ prints per package (or variations within these parameters).

Only available to Australian Direct Fulfillment customers 

Shipped via Australia Post Standard Delivery
Please note - If a customer order exceeds any of the limitations listed above, the Aust Post shipping option will become unavailable in the check-out process.
The Packaging
Prints and order paperwork are bound to 3mm thick sheet of corrugated cardboard and sealed in a plastic sleeve

A 1mm thick cardboard is placed against plastic sleeve to protect print face

Cardboard sandwich is then shrink wrapped in a waterproof plastic coating

Single piece is then inserted into a standard C4 (324mm x 229mm) envelope

"Do Not Bend" sticker placed prominently across face of envelope
PLEASE NOTE: the DO NOT BEND sticker does not guarantee that the parcel will not be bent during shipping. Fotomerchant is unable to accept any responsibility for prints shipped using this option - for guaranteed delivery we recommend using the default Toll Priority option.
Ok, so let's set this up!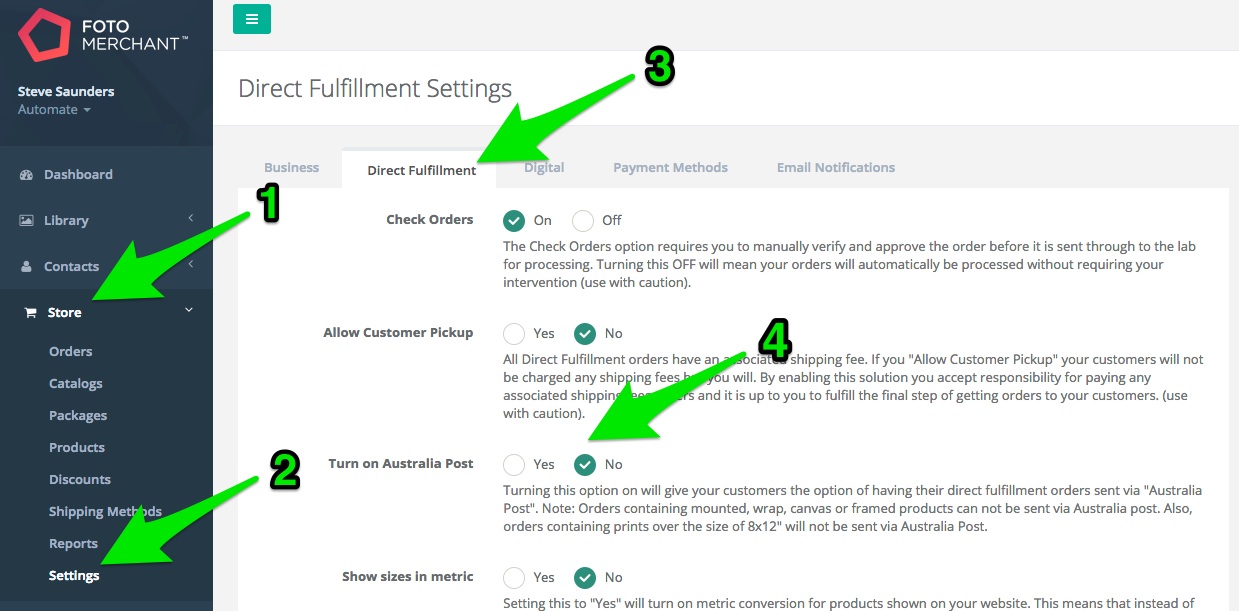 Hit Store
Click Settings
Select the Direct Fulfillment tab.
Set the Turn on Australia Post to Yes
Don't forget to hit Save at the bottom of the page!
..and that's it!