Stripe is a payment gateway that makes it easier than ever for your customers to pay you for their online orders.
A Stripe account can be used in conjunction with PayPal or it can replace PayPal if you don't need to offer that option to your customers. 
(If you do need to configure a Paypal account with Fotomerchant then you can do so by following the steps in this Next Level tutorial.)
Your customers will not need a Stripe account of their own in order to pay you. They simply need a credit or debit card to checkout of your site.
You can read up on more of Stripe's pricing and other information here. A lot of this documentation section can get pretty technical, so if you (like me) need less developer speak and more 'leading by the hand' then be sure to also check out their Help & Support area.
---
Ok, now that you're ready to go..  simply head to your Fotomerchant Payment Methods section to create a Stripe account and integrate it with your Fotomerchant site.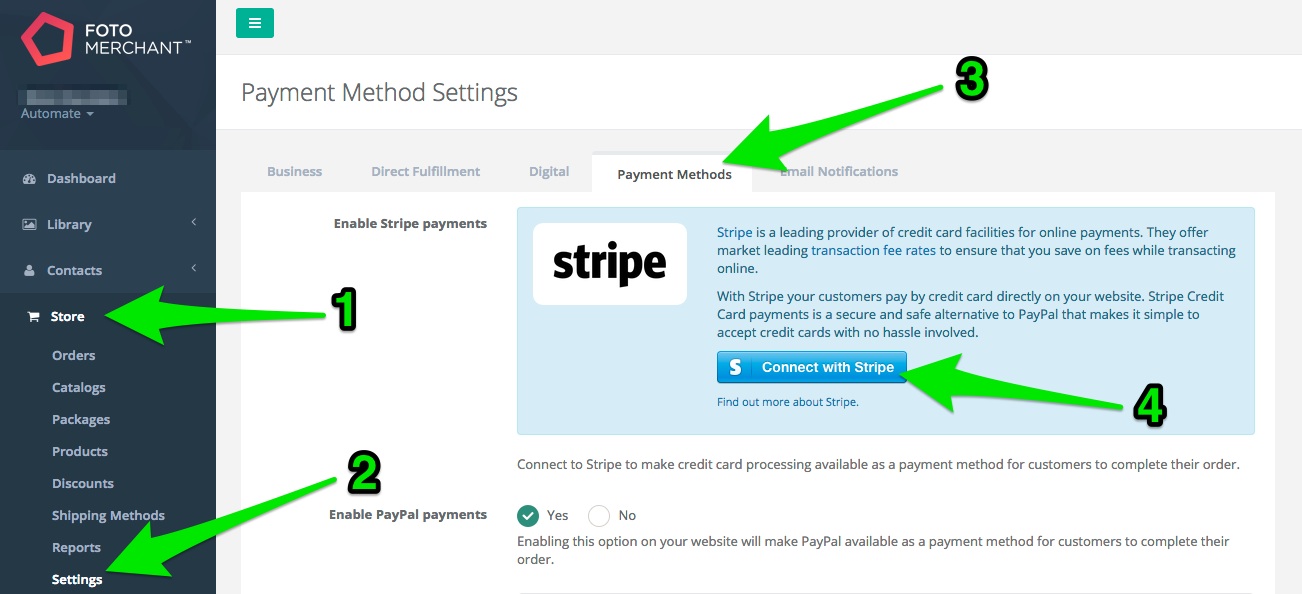 1) Hit the Store menu option
2) Click Settings
3) Now click the Payment Methods tab at the top of page.
4) Now hit Connect with Stripe to create your Stripe account and integrate with it in the one process.
---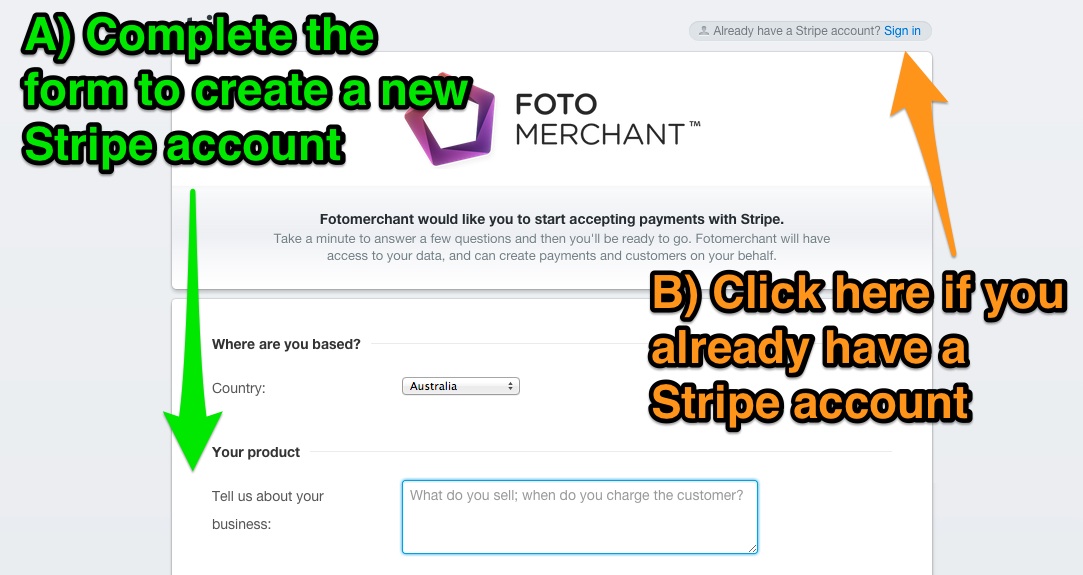 A) You can now fill out Stripe's application form to create a new account. Once you've created your account, keep an eye out for a verification email that Stripe will send you to complete the sign up process. (Don't forget to check your spam folder too!) 
or...
B) If you already have a Stripe account, simply click Sign in to the top right to integrate with your Fotomerchant site.
If you haven't already done so, make sure you also work through tutorials 9, 10 and 11 in our Kick Start Guide to complete your Fotomerchant Store Setup.
..and that's it!
---

Your customers will now be able to use their credit card to make a purchase without ever leaving your website! If you wish, you can also provide them with the option of paying with their Paypal account by following the steps in this Next Level tutorial.
---
Now you might be thinking this was actually a little too easy, right?!
Well Stripe like to keep things as smooth as possible for us at the outset (which is a big part of what we like about them!). However, if your Stripe account later begins to pay out larger sums of money to your connected bank account, they may then prompt you for more detailed documentation like a scan of your passport and more business details. There's more detail for you on their ID Verification approach for you here.
..and here again is a link to Stripe's Help & Support area!
Done!