You can register a new domain name from within the Fotomerchant system and it will be automatically configured to bring up your Fotomerchant website.
You will be able to register a domain name ending in .com .net .org .biz .name or .info. It's not possible to register a new .com.au domain from within your Fotomerchant account.
The following fees may apply when registering a new domain name through Fotomerchant:
A $25 registration fee applies when registering a new domain within your account.
A $25 renewal fee also applies and will be charged automatically each year that we renew the domain for you.
Some of our plans include a complementary registration and purchase of a domain and we'll also take care of the renewal fee for you provided you're still on the same plan when renewal comes around. Please refer to our Pricing page or the My Plan page in your account for information about whether your plan includes complementary domain registration and renewal.
NOTE: In order to register a domain name via the Fotomerchant system, you will need to be subscribed to a suitable plan that includes the "BYO Domain" feature. Please refer to our subscription plan page for more information.
If you have already purchased a domain name elsewhere and want it to point to your Fotomerchant website, you can find the tutorials on how to point the domain name here.
1. Navigate to the Website > Domain Name area of your Fotomerchant account.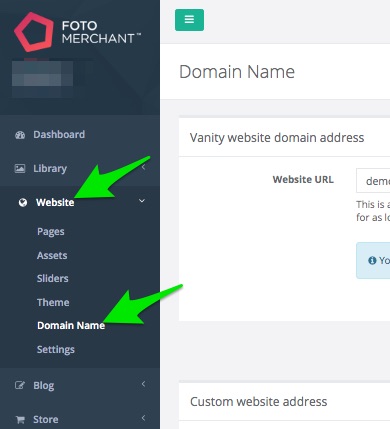 2. Select the I would like to register a new domain name option and then click the Start custom domain setup button.

3. Enter the domain name without the .com or .net into the domain name field.


NOTE: Make sure you get the spelling right. Domain names once purchased and registered cannot be changed in any way.
4. Click on the green Check availability button.
5. Choose one of the available domain names.
6. Tick the Please charge the credit card on file field and then use the green Register button.
7. There's nothing more for you to do here, there will be a delay before the new domain is fully operational. This can take up to 48 hours but is generally much quicker. The domain purchase is complete when the Registration, Configuration, DNS Setup and DNS Verification appears in green like below: